At the Oriental Food and Gift Store we have a price match promise on all our products from Thailand!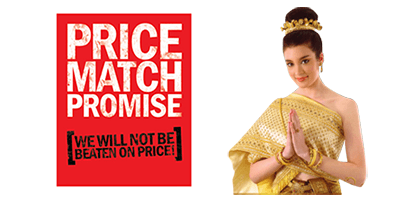 We are confident you can't beat our price, but if you think someone has, contact us and we will match their offer.
We check all our prices to make sure we offer the best price on all our products.
Our PRICE MATCH PROMISE is currently only on Thai products only.
*Terms and conditions apply.
Food Standards
Thailand
All our imported Thai products are of the highest quality standards and in compliance with The Thai Food and Drug Administration including Sanitary Certification, GMP Certification and HACCP Certification of Thailand. 
Zambia
We are compliant with the Ministry of Health, Ministry of Agriculture and Livestock, Food & Drugs Act, Control of Goods Act and Zambia Bureau of Standards.  All our products are GMO free.